FIAT 500 / Abarth Short Throw Shifter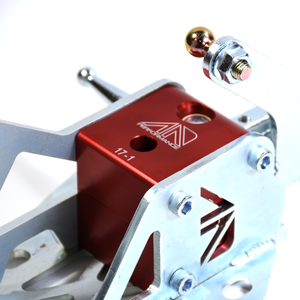 Thanks SO much for the incredible interest in these recently!
  Thank you also for understanding as we struggle to get materials from suppliers and push parts through plating.  We are running about 5-10 days lead time as we not only make every piece of these shifters in house except for some of the bolts, but then we hand assemble and tune each one before packaging it up just for you.  These are shipping in the order that the orders are recieved. 
Thanks again!  -Parker
Description
Simply put, there is not a better value Short-Throw Shifter on the market for your FIAT / Abarth.  Many hours of design went into this as a project originally for MOPAR.  In the end, they felt it would be too expensive once it passed all the way through their sales channels (they'd have never believed there is a $1000 shifter option now!!) so we ended up being able to offer the design direct to consumers.
There are many features that make our shifter unique in the crowd:
Full TiG-welded, laser-cut stainless steel shifter cage replacement (OEM is plastic) for reduced compliance
Unique-in-the-industry offset-axis pivot mechanism that shortens the front-to-rear throw 33% but only shortens the side-to-side throw 25% - this helps the throws be short without ever feeling "notchy"
Precision machined (+/-0.0005" tolerance in places) billet aluminum housing ensures slop-free, bind-free operation forever
Special dry-run self-lubricating bushings never wear out (in practical terms anyway), never need lubrication, and never change friction
Maximum throw-shortening without risking premature wear to the synchros or other transmission components 
100% compatible with any shift knob that will work with the OEM shifter - we copy the dimensions of the OEM shift lever exactly
We do not "cheat" the shortness by moving the shift knob down, we keep it within 2mm of the original position so it looks exactly like stock and keeps your hands closer to the steering wheel when changing gears
Installation is easy - the hardest part is getting the interior trim off to remove the OEM shifter.  There is no extra stress put on your shift cables, transmission, etc. because we actually move the pivot axes more than the cable attachment points.
NOTE ABOUT PURCHASE OPTIONS: If your vehicle is equipped with a stock shifter that DOES HAVE a spring-loaded Reverse Lockout Collar on the shifter itself (Reverse being to the Right of 5th gear), then you want the 500 - Billet Reverse Lockout Collar option.  If your Reverse is "down" from 5th gear and you have the tall, Abarth-style shift knob, you want the Abarth - No Reverse Lockout option.  It is possible to mix and match, but if you want to do that please email us at sales@allanglesdesign.com first so we can explain the differences.  Non-Abarth shifters are subject to additional lead times due to the custom nature and low volume of the lockout collars.
As always, each kit comes with all the hardware you need and packaged in a laser-cut foam-filled box so that your parts arrive in perfect condition every time.
 Note: These shifters are currently being shipped silver in color and not Red as in the picture.  If you require a red or black shifter, please notify us and allow 2-4 extra weeks to get it through our anodize supplier.  Thank you!
We cannot guarantee fitment on non North American market Fiats.  We have sold several to Europe and have had one instance which it was reported that the shifter could not be installed, and several who reported back that the shifter worked with minimal modification.  We have not been able to get further response from the happy customers to detail what modifications (if any) were required, but due to this, international sales of this product cannot be returned.
Installation
Here is our Installation Instructions for these part!
Warranty
Here is our 1 Year Limited Warranty Information.
Reviews