Charger Challenger 300 Magnum Rear 4 piston conversion kit for non-SRT
SALE
SALE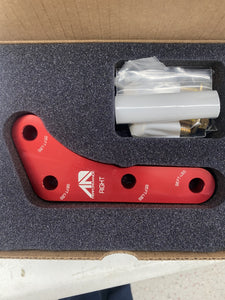 SALE
SALE
SALE
Now Shipping! (1/26/23)
Here's a new solution for people with non-SRT rear knuckles who want the stopping performance and killer looks of an SRT! Purchasing costly SRT spindles, hubs, E-Brake kits for Non-SRT brembo upgrades is a thing of the past.
This kit allows you to mount factory SRT rear 4 piston Brembos to your factory non-srt rear spindle, significantly reducing the cost of a brembo upgrade.
This kit mounts the caliper in the same location radially as an SRT vehicle with factory brembos, that means you can still run down to 17" wheels with this kit!
Whats included
2- Billet 6061-T6 Aluminum Brackets anodized blood red!
8- Grade 10.9 Zinc plated Hex Flange bolts
8- 316 Stainless Steel M12x1mm shims
Whats Required (Not Included)
Pair of factory Lx/Lc/La SRT 4 Piston rear brembo calipers, or Powerstop equivalent 
Pair of factory SRT Lx/Lc/La rear brake lines, or aftermarket equivalent
Pair of factory SRT Lx/Lc/La rear rotors and pads, or aftermarket equivalent 
Minor modifications are required for fitment, grinding a portion of the knuckle or caliper (we recommend grinding the caliper, as opposed to the knuckle), and trimming of the dust shield.
This kit no longer includes calipers, if you would like us to supply modified calipers please contact us at   Sales@allanglesdesign.com