Lx Lc La Lightweight Rear Bumper Support Beam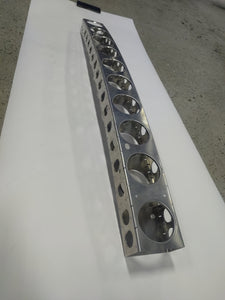 Here is our new lightweight rear bumper support for the Lx/Lc/La platform. Our aerospace design yields a weight of under 1.6 lbs, a weight savings of 17 lbs over the 18.6lb factory rear bumper support from the '14- cars, and more than 7 lbs from the '15+ cars!
With provisions for new and old mounting stud locations, and designed to be the narrower height and width of the newer red-eye chargers, this bumper support should work for all years and models.
Due to this being a brand new product it may take a few days to get your order out due to high demand while we are ramping up our production.
Combined with our front bumper support the total weight savings is 26 lbs on 2005-2014 cars, and over 16 lbs on '15+ cars!
Save money and get them as a pair, here:
 https://aadperformance.com/products/lx-lc-la-frona-and-rear-bumper-support-beam?_pos=3&_sid=fd6f3c219&_ss=r
These are obviously intended for race use only and are not for crash protection, and are not vehicle safety crash tested by the NHTSA.