6.2 HEMI Adjustable Idler Pulley
SALE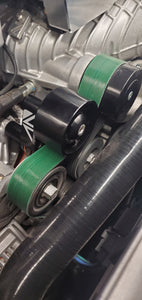 SALE
SALE
SALE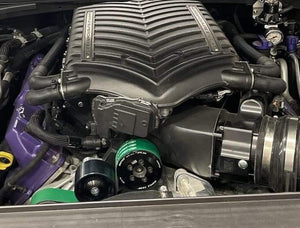 SALE
SALE
SALE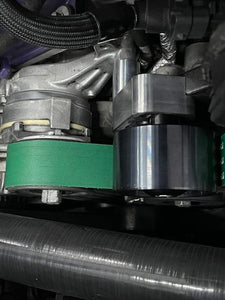 SALE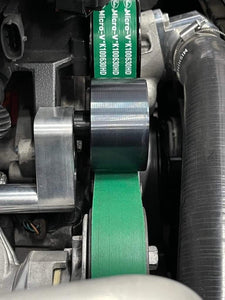 SALE
Our Whipple idler now includes clearance and a spacer for 3.8L applications!
Description
Our billet aluminum adjustable idler pulley for the Hellcat, Demon, Redeye, Trackhawk, TRX, and Hellcat Durango platform is just what your supercharged 6.2 needs. The factory belt routing can lead belt slip under high load, due to the inadequate belt wrap on the supercharger pulley. While we designed this to also work with factory pulleys, the adjustable idler is an essential upgrade for anyone changing the upper or lower pulley for higher boost levels. Utilizing a fixed adjustable design, prevents failures often seen in slot adjustable designs. Multiple mounting holes allow for the idler to be placed in the ideal location based on your application. Designed to be compatible with our catch can bracket (Billet Technology Brackets fit with very slight modification) This pulley provides at least another inch of belt wrap around the upper pulley in the highest position.
Features:
• Fits all IHI Supercharged Hellcat applications (Hellcat, Demon, Trackhawk, TRX, Durango Hellcat)
• 100% Billet 6061-T6 Construction
• Durable fixed adjustable design; maximum strength and adjustability
• Dual Timken ball bearings
• Zinc plated corrosion resistant high strength hardware

We didn't want to cheap out on the bearings in this pulley so we went directly to Timken and ordered the best bearings we could. As always all our parts are made, assembled, packaged and shipped right here in Kansas City, MO USA.
Installation
Here is our Installation Instructions for these parts!
Warranty
Here is our 1 Year Limited Warranty Information.