Dodge Charger Challenger 300 Magnum Billet Front Upper Control Arms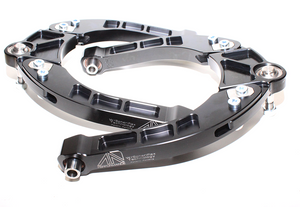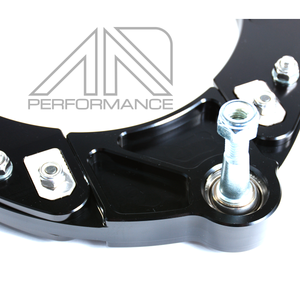 Note: Photos show single Arm, but kit consists of Driver's and Passenger's side pair. 
We are running a week or two delay on this and all of our parts at the moment due to material supply issues and  just plain being swamped.  Thanks for your patience and understanding, we are getting everything out the door as quick as possible in the order the orders are received.
Thanks!
Description
Full billet aluminum, fully-adjustable Front Upper Control Arms for your 2WD Charger, Challenger, Magnum, 300, Hellcat, etc.  These Arms use our unique tab-lock system to facilitate easy, on-vehicle Camber adjustment so that when you lower your ride, you can get your Front Camber back in spec. Utilizing our Patent Pending Spheriflex bearing, a teflon impregnated Delrin spherical bearing, to reduce or eliminate the slop in the OEM parts.
Our parts are all precision machined from 6061-T6511 billet aluminum and 17-4 Stainless steel.  Tabs are laser-cut for exact fit, and all hardware is high-strength with OEM-quality plating to resist corrosion.  Our arms weigh approximately 1 pound less than the OEM parts (each) but are significantly stronger in all directions.
We use a high-end, FK stainless-steel, Teflon-lined spherical bearing for the joint that is angled 5-degrees to prevent joint bind at full droop.  This bearing is replaceable and will last for years without issue.
In short, we have done everything we can to make sure these parts fit exactly right, provide all the adjustment you could need (up to +/- 8mm as compared to stock) and give nothing but trouble-free years of service even under harsh conditions.
If you are a road race/autox guy looking for more negative camber, please let us know at the time the order is placed, as otherwise we will assume that you are wanting to reduce camber as that is most common.  Thanks!
Installation
Here is our Installation Instructions for these part!
Warranty
Here is our 1 Year Limited Warranty Information.
Reviews