Lx Lc La Charger Challenger front 6 piston kit for non-SRT rwd
SALE
SALE
SALE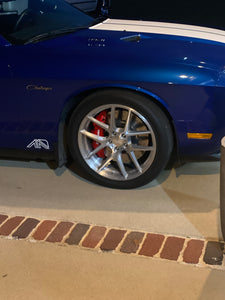 SALE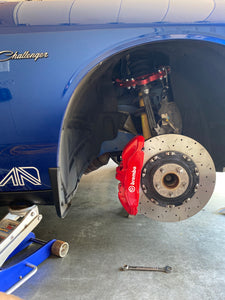 SALE
SALE
Here's a new solution for people with non-SRT front knuckles who want the stopping performance of an SRT!  Our kit includes Brand New Radial Mount staggered six piston Monoblock Brembo calipers to eliminate pad taper. Increase the braking performance of your RT beyond that of an SRT without swapping knuckles or loosing the reliability of an OEM Brembo caliper. 
They bolt to a custom cnc machined aircraft aluminum bracket with helicoiled holes, anodized red.
These kits include the calipers, brackets, stainless braided Wilwood hoses, Earl's stainless steel banjos, caliper pins and bolts.  Everything you need to put six pistons on your non-srt car.  Just add the Hellcat rotors (15.4")  and pads of your choice (now included as an option)!
 Please allow an extra week or so for orders with rotors included...
 For customers outside of the continental US, please contact us prior to ordering for shipping quotes! (sales@allanglesdesign.com) 
2005-2011 Lx/Lc/La (RWD only) platforms now supported, please allow additional lead time on 05-11 front brake kits.
This change occurred when the knuckles switched from spindle style to hub style knuckles.  We have seen some 2012's that are old style and some 2011's that are new style.  Please check your wheel bearings to be completely sure that you get the right part if your vehicle is around these years.
Prior to ordering, ensure your wheels will clear these calipers, OEM SRT 20" wheels or quality aftermarket wheels are required. 
****************Disclaimer for everyone who emails about buying the brackets without the rest of the kit even though we sell the rear brackets by themself, so obviously we would sell these by themselves if they would work that way. *******************
In Order to allow this kit to use Factory Style rotors and pads, this kit uses custom RADIAL MOUNT Brembos brand new straight from Brembo.  They are lighter than factory Hellcat calipers, and have staggered piston sizes to compensate for pad taper.  These brackets will NOT work with your used hellcat brembos you found on Marketplace.  If you insist that you can 'make them work' anyway we will now sell just the brackets to you for $500 cash, non-refundable, mailed to AADPERFORMANCE, 14912 E Truman Rd, Independence, Mo 64050. 
Any brackets sold without the rest of the kit will receive absolutely no customer support and again will NOT get any refund for any reason when you realize they WILL NOT WORK with your used factory hellcat calipers you found.  Look at the pictures. Look at your used hellcat calipers. See where the mounting bolts go?  WILL NOT WORK.  The custom calipers are sold as a kit with the fittings which also are different than the factory hellcat stuff you found so you have what you need.  Again, this is all done so that you do not have to buy custom rotors from us every time your rotors wear out.  There is NO POSSIBLE WAY to make factory rotors work with factory hellcat calipers on a Non-SRT spindle without cutting the mounting ears off of the spindle, grinding the spindle down, then welding new mounting ears on.
But, for $500 cash, nonrefundable, you can try if you insist.