LX LC CHALLENGER CHARGER MAGNUM FRONT SWAYBAR ENDLINKS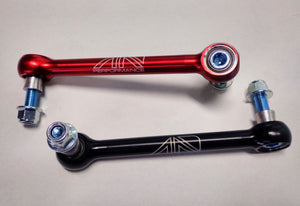 They have been a long time coming, now they're here!  
New AADPerformance Sway Bar Endlinks W/Spheriflex for your modern Mopar!  Our original design provides all of the performance of steel heims with none of the noise for unparalleled durability!  Our endlinks are turned out of 1-5/8" 6061-T6511 aluminum billet, with the bearing races bored into the parts, then the rebuildable Spheriflex bearings are installed in both ends the link.  
Designed to provide unparalleled performance and durability, our new Front Endlinks match our Rear Endlinks and look great while enhancing your cornering abilities!
Our Spheriflex design allows us to get 10 lbs of stuff into a 2 lb package!  These front endlinks have been designed to be the correct length to clear basically any application, taking the guesswork out of adjusting double-side-threaded endlinks with jam nuts.
Find the Fronts AND Rears together, Here!
The first few dozen sets are going to be at a reduced price, these are going up soon!